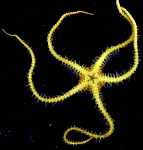 New web portal provides free and open access to information on antarctic marine species. The SCAR-MarBIN portal lets users browse, see and search different types of data, including over 2000 photos and videos. Entries are geo-referenced so users can discover what is found where.
The database now offers access to over one million records from 120 datasets. This was one of the ambitious objectives for the end of the International Polar Year (IPY). The data is updated by more than 70 experts worldwide. SCAR-MarBIN makes it possible to instantly download data and map the occurrence and abundance of polar marine organisms.
Antarctic marine ecosystems are particularly challenged by Global changes. More and more, the Southern Ocean is considered as a hotbed of marine speciation, having a considerable influence on Marine ecosystems worldwide.
SCAR-MarBIN is the information partner of the Census of Antarctic Marine Life (CAML), one of 17 projects of the Census of Marine Life.
What do you think of this news item? Join a discussion.